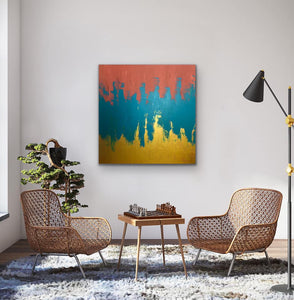 Original acrylic painting on stretched canvas 100x100 cm
 This abstract art piece is ment to capture the evning sun over the ocean, and the sqewed reflection of sky in the ocean. it is meant to give a the sense of calm you get when you look at the sun setting over the horizon on a late summers eve. That feeling of bliss.
The painting is varnished in a semimatte varnish with UV-protection.
The painting can be framed at an additional price